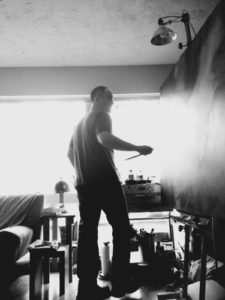 ROBERT PATRICY is a visual artist who has been practicing professionally for 25 years. During his career Robert has shown works in galleries, museums and exhibitions both in America and abroad while also producing a number of larger scale mural commissions. While working as a graphic designer for an international architecture and design firm Mr. Patricy worked on an array of diverse creative projects.
Recently Robert's art making has journeyed towards the contemplative and the sacred as subject matter while utilizing the tools and methods of traditional painting and recent digital technologies. His most recent endeavors include a "Christ in Majesty" mural for the dome of a private baptistry and design for gates depicting the Great Flood from Genesis. He is currently working to build an art practice focused on traditional Catholic liturgical and sacred art.
Robert will be painting in the Fra Angelico Gallery on these days: Monday, Wednesday, Friday from 2:00 p.m. to 4:00 p.m.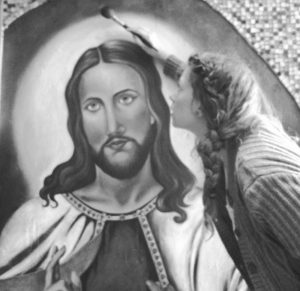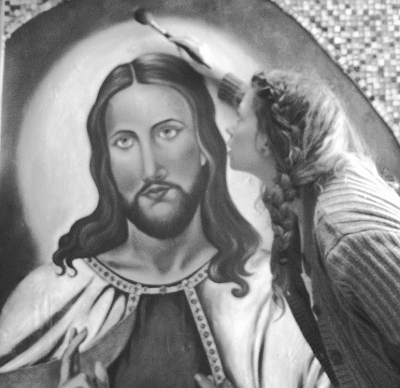 ERIN SOBONY earned her BFA in Art Education. She was able to put her degree to use while working at Art.com. She designed many of the products and applied her skills to production. She moved on to manage the frame shop of two of the busiest galleries in Savannah, GA and Charleston, SC. Her experiences and connections to art continued while teaching high school art in Blackville, SC. During these years, she wrote art related articles for The Folly Beach Current and The People's Sentinel. For the past five years, Erin has consistently worked on commissions, mainly working for one client, painting religious murals and stained glass windows, usually at great heights.
Artists of value and great influence to Erin Sobony include, Frida Kahlo, Artemisia Gentileschi, and Frank Stella. Many artists found over social media have also influenced her, to name a few, Josie Morway, Mark Maggiori, Richard J. Oliver, and local artist, Christopher Burke. Many of these artist include their techniques, which Erin has implemented in her work.
When she is not painting for others, Erin has explored transformation and growth with mythical elements in a realistic manner. The artist's main techniques implement the Flemish method of painting. She layers the work with umber and tones of gray. Erin Sobony finds a purpose in making art that moves the human soul. She would like the connection to be something greater than herself. She sees herself as merely a tool of communication through art.
Christine Munhall is a self-taught artist living in Granville, Ohio with her husband and four lovely children. Although Christine has shown a strong affinity towards the arts from a young age it wasn't until 2010 that her artistic passions were rekindled. After becoming a full time mother and leaving the business world, she was blessed with opportunity to rekindle her creativity in new and unexpected ways. She is passionate about experimenting with texture, colors and materials, looking for beauty in the most obscure places. She loves creating mixed media paintings, teaching others and refurbishing furniture. Some of her favorite materials to work with are polymer clay, glass, acrylic paint, and resin.
"Creating art is an evolution that creates an anticipation, a hunger inside that sustains me. Expressing myself in this silent way keeps my soul wide awake….satisfied, yet stretching and striving for more."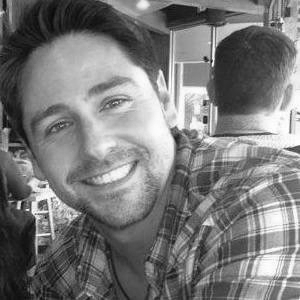 Gabriel Cortez is a Cincinnati native who graduated from Columbus College of Art and Design. With nearly 20 years of experience, Gabriel has worked on projects including graphic design, logo design, and photography editing. He draws inspiration from artists such as J.C. Leyendecker and Maxfield Parrish. His philosophy is simple: you have to love art to create it.
If you have any questions about our exhibition contact Graziella Marchicelli, Ph.D. at 614-600-0054.
Or email jubileemuseum@gmail.com.