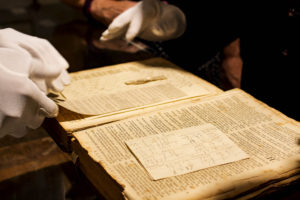 We're excited to announce a new opportunity for 2023: The Catholic Museum of Art and History Internship Program.
We're looking for college students or high school upperclassmen with the following qualifications:
A passion for the beauty and history of Christian Culture.
A willingness to take the talents or gifts they already have, develop them further, and use them to share the Gospel through the opportunities present at the The Catholic Museum of Art and History.
Internships will be catered to the abilities and interests of individual students. If you:
Have a passion for meeting people and telling stories, you could become a greeter and tour guide. You'll be our front-line ambassador for everyone who comes through the Museum's doors.
Are more interested in behind-the-scenes work, you can help with curation, research, and organizing the history of our collection.
Have a talent for writing, you can write social media posts or articles to help the Museum expand its online presence.
The internship program will be an incredible supplement to any high school or college education. If you're interested in…
A unique education through immersion in the history and treasures of the Faith.
A chance to interact and practice public speaking with people of all ages and backgrounds, as you educate our visitors about the history of the museum and its artifacts.
Priority access to the art classes we're starting, which could include anything from drawing, painting, and carpentry, to plaster and stained-glass restoration, to sacred music.
A behind-the-scenes look at the inner workings of a small nonprofit.
Contributing to our incredible mission of preserving and restoring the cultural and religious patrimony of Western Civilization.
… Then apply for an internship at the Catholic Museum of Art and History!
We'll consider applications on a rolling basis. To apply, just send us the following documents:
A résumé with up-to-date contact information.
A one-page cover letter describing why you'd like to intern at the Catholic Museum of Art and History.
Applications, along with any questions you may have, can be sent via email to info@catholicmuseum.org.